140+ Years of Leadership
The Great Synagogue congregation is more than 850 families, spread throughout Sydney and a mixture of ages and backgrounds.
There are families which can trace their ancestry back to the founders of The Great Synagogue in the mid-nineteenth century and families which have just arrived in Australia from South Africa, Israel or elsewhere.
The congregation's style of worship is Modern Orthodox utilising the Minhag Anglia - services are in the Ashkenazi tradition based on the tradition of the United Synagogues of Great Britain.
The Great Synagogue congregation and its rabbis have always been in the forefront of the Sydney Jewish community's interaction with the wider community. Major events in Australian and NSW history have always been marked with services at the Great Synagogue and Australian political, medical, arts, legal and other leaders are frequent guests of the synagogue for services and events.
The congregation holds an annual Law Service to mark the beginning of the legal term. Jewish and non-Jewish judges, barristers and other legal professionals attend the service, in the presence of the Chief Justice of NSW.
As the "mother congregation" of Australian Jewry, The Great Synagogue is visited by distinguished individuals including politicians, governors, consuls and ambassadors from other countries, Christian clergy and clergy of other faiths.
In 2011, it hosted Australian Governor General Quentin Bryce AC who was guest speaker at the dinner which followed February's Law Service.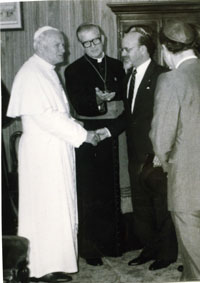 Pictured left is Rabbi Apple with Pope John Paul II and Cardinal Clancy during the Pope's visit to Sydney in the 1980s.
The US Consul General Judith Fergin and her Public Affairs officer Alexei Kraal, who visited the synagogue in March 2009. They are pictured with Rabbi Lawrence, then President Rosalind Fischl and former President Jake Selinger.
Former Prime Minister Kevin Rudd and his wife Therese Rein with Rabbi Jeremy and Mandy Lawrence on Australia Day 2010.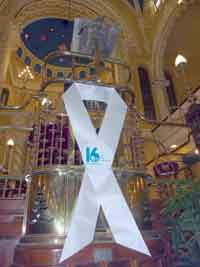 The Great Synagogue is often in the forefront of social movements within the Jewish community. In 2009 and 2010 it marked the International Day Against Violence Toward Women by draping the bimah with a white ribbon, the symbol of the day.
The Great has also been a leader in enhancing the role of women within Orthodoxy. We have just celebrated the centenary of Bat Mitzvah celebrations at The Great, we carry the Torah to the women's gallery whenever possible, on Simchat Torah we have a special Hakafot (circling around the Bimah) for the women.
The Great was the first Orthodox synagogue in Australia to have a female president and for some years now it has supported the Women's Tefillah Group.
Sat, 19 September 2020 1 Tishrei 5781